Tyler Schwartz- World Champion Irish Dancer

I'm so pumped to have Eucatape as product on the market, it truly is the best dancing tape out there.

Megan Arnold- Physical Therapist

The healing qualities of Eucatape can only enhance a drummer's ability to elongate their career while protecting their most precious commodities; their hands.

Ellen Waller- Owner & Operator of TARGET TRAINING (specializes in Irish Dance)

Blisters are a huge issue for dancers. Eucatape helps heal and prevent blisters and smells like a spa!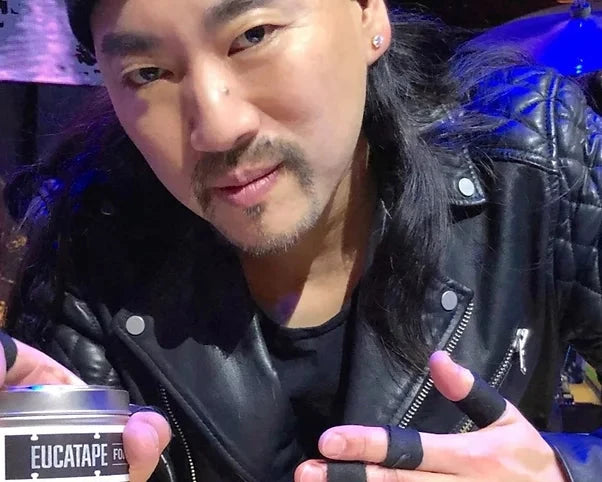 Taku Hirano- Percussionist for Fleetwood Mac
Eucatape was an instant game-changer in helping me deal with the rigors of hand drumming while on extended tours. With occupational hazards like fingertip splits, blood blisters and impacted calluses creeping up after months of constant playing, taping my hands for the stage and icing post-show has always been a necessity. What Eucatape brings is the analgesic and anti-inflammatory benefits of eucalyptus oil, preventing swelling of muscle tissue from high-impact playing, while providing the protection of a top-quality therapeutic sports tape. I noticed the difference immediately and made taping up with Eucatape an integral part of my pre-show prep. I'm so sold on it, I even put my name on it with my Taku Hirano Signature Series Eucatape!
Real customers, who love Eucatape!
Excellent Protective Tape ★★★★★

"The tape was great, it protected the joints on my fingers when I play congas. Typically if I play with no tape I just have to beat through the pain, and play softer because it hurts. With the tape, even just one layer of the tape, I can hit the congas as hard as I want to get a louder sound and I don't feel it. Will buy again."-- Luis L.

Super Helpful ★★★★★

"Got this for my son who's a drummer. Not hand drums... a regular set. After a few songs, a couple of places on his fingers, that refuse to callous, would get really irritated and painful. So now he sits down, grabs his roll of Eucatape, wraps those spots, and drums until HE wants to be done- not because he HAS to stop. It sticks well, doesn't interfere with grip, and it smells good. He says "9/10, because if I couldn't feel it at all, it'd be 10/10"... honest statement from a critical teenager". -- Bee

Great Tape for Rowing ★★★★★

"My son swore by this tape during his crew practices/races. Most of his teammates also used this tape."-- Laura